Free Wildcard SSL Certificates in Minutes
How?
We generate wildcard certificates using their ACME server by using DNS Challenge validation. Since we use DNS Challenge, you must use NameOcean DNS to generate SSL. It is automatically renewed and generated free wildcard SSL.
What is wildcard SSL?
A wildcard SSL certificate is a digital certificate that is applied to a domain and all its subdomains. Eg. example.com and *.example
Widely Trusted SSL Certificate
Our free SSL certificates are trusted in 99.9% of all major browsers.
What does it cost?
We don't charge any fee for domains on NameOcean. You can buy a new domain or transfer your domain and use our free services like ssl, dns and health check immediately. If you need help transferring your domain, check our tutorial: How to transfer a domain to NameOcean?
Don't worry if you can't transfer your domain. It only costs $0.5 per month for external domain names.
What is Let's Encrypt?
Let's Encrypt is a free certificate authority developed by the Internet Security Research Group (ISRG).
Let's Encrypt provide two types of certificates. The standard single domain SSL and the Wildcard SSL, which covers not only a single domain, but all of its subdomains too. Both types of SSL certificates are issued for a period of 90 days. NameOcean generates Let's Encrypt Wildcard certificates automatically. These certificates are domain-validated, don't require a dedicated IP.
How to generate SSL Certificate on NameOcean?
You can generate and download your SSL certificate on NameOcean dashboard by only one click.
Go to NameOcean SSL dashboard now to generate your SSL certificate. For detailed instructions you can follow the tutorial, How to create free SSL on NameOcean?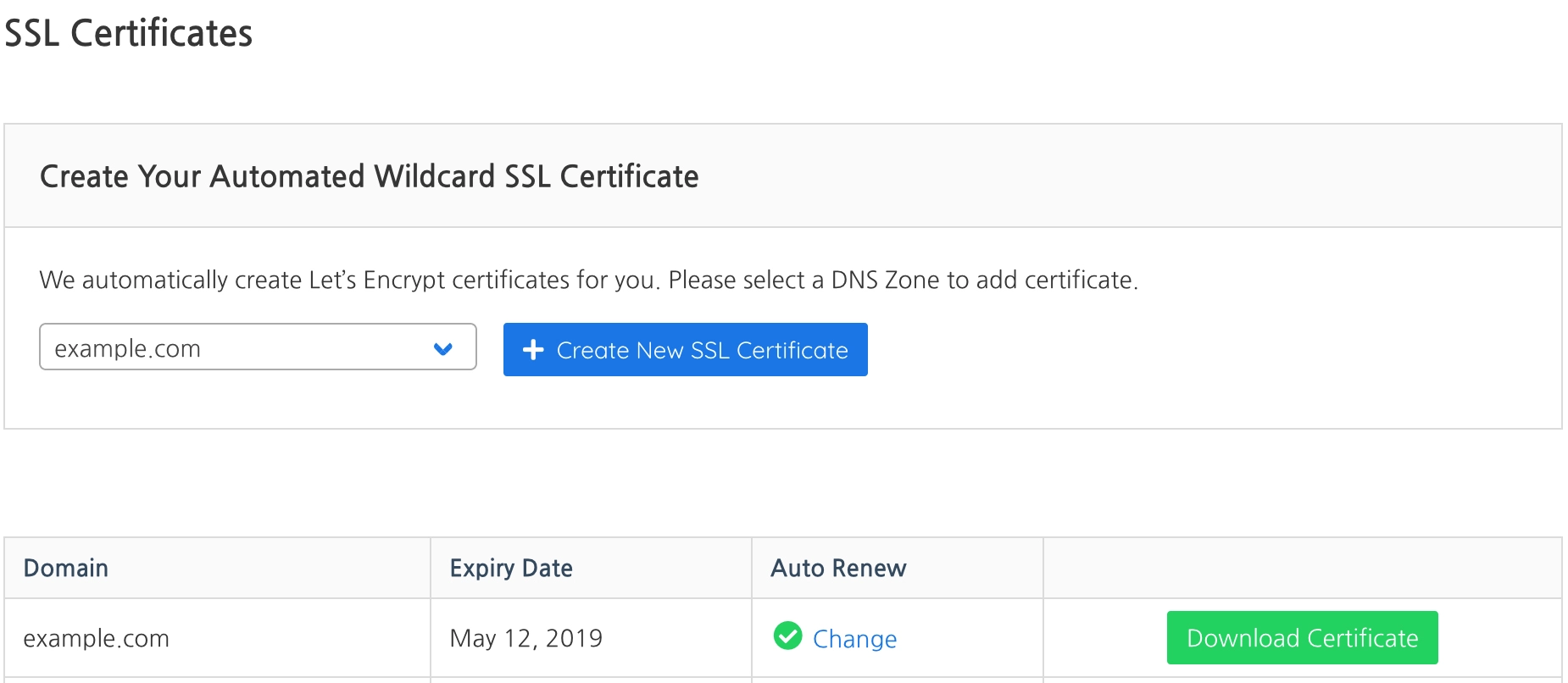 Note: The only verification method to generate Wildcard SSL certificate is Let's Encrypt's DNS challenge. You have to use NameOcean DNS to generate SSL.
You can create a new DNS Zone on NameOcean DNS dashboard. Then set your domain name's nameservers as:
Nameserver 1: ns1.nameocean.net
Nameserver 2: ns2.nameocean.net
Nameserver 3: ns3.nameocean.net
Nameserver 4: ns4.nameocean.net